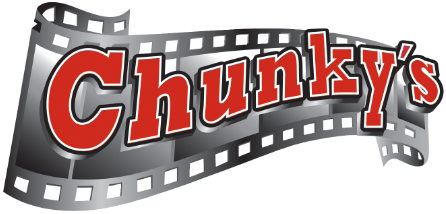 Calorie Information
UPDATED 7/16/19
SNEAK PREVIEWS
Adam Sampler: 1136 cal.
Aladdin's Hummus Platter: 636 cal.
Chili Factor: 200-338 cal.
Coco's Loco Shrimp: 414 cal.
Hansel & Pretzels: 1016 cal.
High Noon BBQ Nachos: 1724-1945 cal.
Lord of the O-Rings: 372 cal.
Mission Impossible Nachos: 1543-1751 cal.
Sandlot Fried Pickles: 643 cal.
Top Guns Wings: 907 cal.
Towering Inferno: 682-892 cal.
Wizard of Ozzarella Sticks: 612 cal.
GARDEN STATE
Caesar Romero Salad: 532-738 cal.
Little Chop of Horrors Salad: 601-699 cal.
Love Me Tender Summer Salad: 1013 Cal
My Big Fat Greek Salad: 693-951 cal.
MAIN ATTRACTIONS
Captain Quint's Fish and Chips: 630 cal.
Goodfellas Chicken Parm Flatbread: 894 cal.
Love Me Tenders: 550 cal.
Raging Bull Steak Tips: 926 cal.
Reservoir Dogs: 765-989 cal.
FIRST-RUN 1/2lb. BURGERS
The A-List
Beauty and The Bistro Burger: 1054 cal.
Smokey & The Bandit Burger: 1030 cal.
The Classics
Kevin Bacon Burger: 950-965 cal.
Robert De Niro Burger: 864-879 cal.
Tom Hanks Burger: 766 cal.
Guilt-Free
Awesome Guacamole Turkey Burger: 721 cal.
To Infinity & Beyond Burger: 810 cal.
AND THE NOMINEES ARE…
Chariots of Fire Buffalo Tacos: 833 cal.
Captain Marvel Turkey Sandwich: 686 cal.
The French Connection Pub Dip: 903 cal.
Parmageddon Chicken Sandwich: 552 cal.
Matrix Reloaded: 755 cal.
The Space Jam Chicken Sandwich: 696 cal.
EXTRA CREDITS
Apple Slices: 60 cal.
Coleslaw: 160 cal.
Mashed Potato: 180 cal.
Onion Rings (Basket): 372 cal.
Onion Rings (Side): 248 cal.
Popcorn: 70 cal.
Potato Chips: 100 cal.
Pub Fries (Basket): 174 cal.
Pub Fries (Side): 116 cal.
Rice Pilaf: 670 cal.
Side Salad: 64 cal.
Sweet Potato Fries: (Basket) 144 cal.
Sweet Potato Fries: (Side) 96 cal.
Vegetable Medley: 60 cal.
Waffle Fries: (Basket) 426 cal.
Waffle Fries: (Side) 284 cal.
WOODY'S ROUNDUP
Andy's Gooey Grilled Cheese: 242-262 cal.
The Buzz Burger: 505-557 cal.
The Rex Dino Nuggets: 168 cal.
The Slinky Dog: 300 cal.
Trixie's Bites: 250 cal.
Woody's French Bread Pizza: 290 cal.
Butter Beer: 378-402 cal.
Branch's Blue Raspberry Twist: 180 cal.
The Grinch Twist: 195 cal.
Shirley Temple: 157 cal.
ENCORE PERFORMANCES
Bullseye Sundae: 238 cal.
Chewie Brownie: 327 cal.
Dark Side Lava Cake: 539 cal.
Jabba The Hot Fudge Sundae: 358 cal.
Rey's Cookies and Cream Mousse: 312 cal.
Skywalker's Warm Cookie Dessert: 709 cal.
Storm Scooper Ice Cream: 158 cal.
Ice Cream Flavors
Chocolate: 200 cal.
Cookie Dough: 220 cal.
Cookies & Cream: 220 cal.
Fat-Free Vanilla Frozen Yogurt: 150 cal.
Strawberry: 180 cal.
Vanilla: 200 cal.